Our plant is equipped with the most modern manufacturing facilities. We guarantee a meticulous quality check of the whole oil manufacturing cycle starting from raw materials and finishing with the delivery of packed canisters. All production sites are equipped with modern laboratory, storage for oil samples and production quality control was certified by the specialists of EVO Lubricants. Each product goes through multiple testing systems including quality tests in real life field situations. We have excluded all possible risk factors to get the best oil for your engine.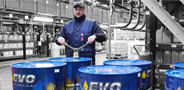 11 Jan 2021
We are happy to introduce a new position in our catalog - EVO ULTIMATE R 5W30. This is a fuel economy, synthetic motor oil, developed according to the most recent technology, based on specially selected synthetic base oils. By applying advanced additives the exceptional performance of this low SAPS motor oil is accentuated: lower fuel consumption, suitable for modern catalysts and diesel particulate filter (DPF), low combustion ash building (low SAPS), fast cold start, safe lubrication film at high temperatures, very good detergency and dispersion, very strong protection against wear, corrosion and foaming.
Recommended for use in petrol and diesel engines, with or without turbo-charging, in passenger cars and delivery vans. Due to its special composition this product can be applied in vehicles for which the Renault specification RN0720 as well as Mercedes-Benc specifications MB 229.51, MB 226.51 are required and are equipped with modern three way catalysts and diesel particle filters. Due to its low SAPS content this engine oil contributes to the extension of the lifetime of particle filters for diesel engines.

23 Sep 2020
EVO's wide portfolio of high quality and performance industrial lubricants includes different types of industrial oils for many different and challenging applications. EVO Lubricants provides hydraulic, compressor oils, gear oils for industrial use and other industrial oils.